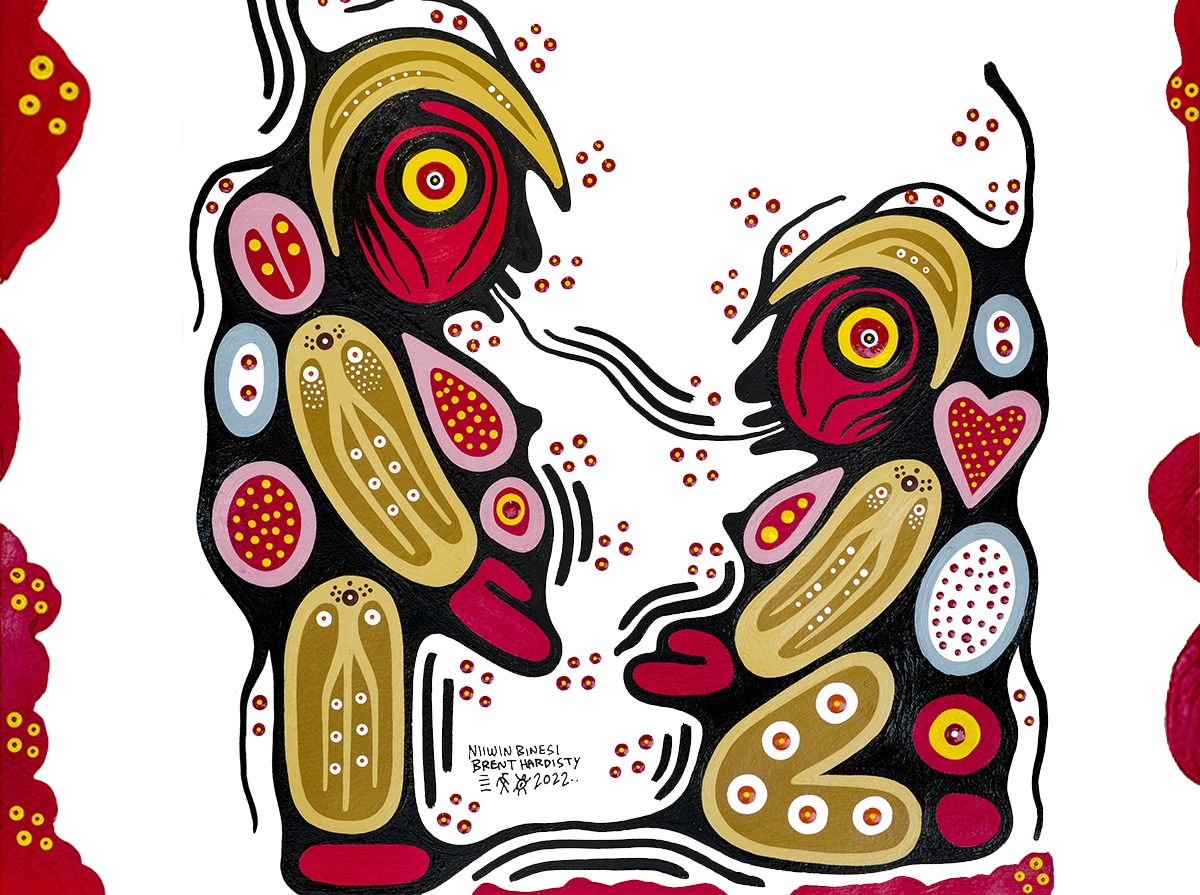 Painting: Niiwin Binesi - Brent Hardisty
Connect to the medicine that lives within you.
Two sisters who have been separated from each other reconnect on their ancestral territory. Their journey interweaves with that of Nokomis, their grandmother who raised them, as she lights her fires in the Spirit World. Drawing from Anishinaabe stories and oral traditions, The Seventh Fire, created by Vancouver-based artist Lisa Cooke Ravensbergen, is an immersive audio performance inspired by ceremony, invoking sound and story as the somatic link to ancestral realms.
Cooke Ravensbergen's creation blurs time and space, bringing emotional and ancestral connection into being through deep collaboration with sound designer Mishelle Cuttler and a matriarchal creative team. The Seventh Fire takes place in past, present and future, above and below the earth. It is the realm of the spirit, where a better future becomes co-conceived.
When entering the space, you are free to stand, sit, lie down or move around to immerse yourself in the sounds.
"This is a production that displays our prophecies in a way that helps people recognize change to help to have a future. When presented in a way that people feel, it helps promote the changes needed for a future."
– Elder Lorelei Hawkins
"The Seventh Fire is a piece that I will remember for a very long time, teleporting me to places, stories, and imagery that I never thought I'd be able to visit on my own–sometimes gently, sometimes intensely, sometimes both. You don't want to miss this."
– Derek Chan, Artistic Director of Vancouver Asian Canadian Theatre
Created by Lisa Cooke Ravensbergen, in collaboration with Mishelle Cuttler (Sound Designer), Debbie Courchene (Associate Sound Designer and Technical Director), Reza Nik (Set Designer), Laura McLean (Collaborating Dramaturg), and Christine Quintana (Collaborating Dramaturg).
Vocal performances by Margo Kane, Tasha Faye Evans, and Lisa C. Ravensbergen, with additional vocals by Renae Morriseau and Kaitlyn Yott.
---
A Neworld Theatre production, in association with Delinquent Theatre.
Co-Presented with Why Not Theatre.
Originally co-presented with Full Circle First Nations Performance, and created with support from the PuSh International Performing Arts Festival.
Additional development support from Playwrights Theatre Centre (Vancouver).
Language Advisors: Chiikishkiy (Walter Cooke), Mishiikenh (Vern Altiman).
---
Low vision/blind friendly, relaxed environment, all participants are asked to remove their shoes before entering the space. People are invited to sit or lie on cushions, and chairs are available as well. Everyone is invited to move as they need to be comfortable in the space. The experience includes a loud soundscape and a limited number of noise-reducing headphones will be available; patrons are welcome to bring their own headphones.
All performances are COVID-Conscious Performances; all audience members are required to wear masks in the theatre.
---
Warnings
Content: this work touches on the Sixties Scoop and Residential School survivors; recommended for age 9+.
Sensory: smudge ceremony produces scents and smoke. Sustained sound that is sometimes loud. Low lighting.
---
Part of the SummerWorks Presentations programming – a vital collection of theatre, dance, music, and live artworks from across the country offering you a snapshot of contemporary performance.
---