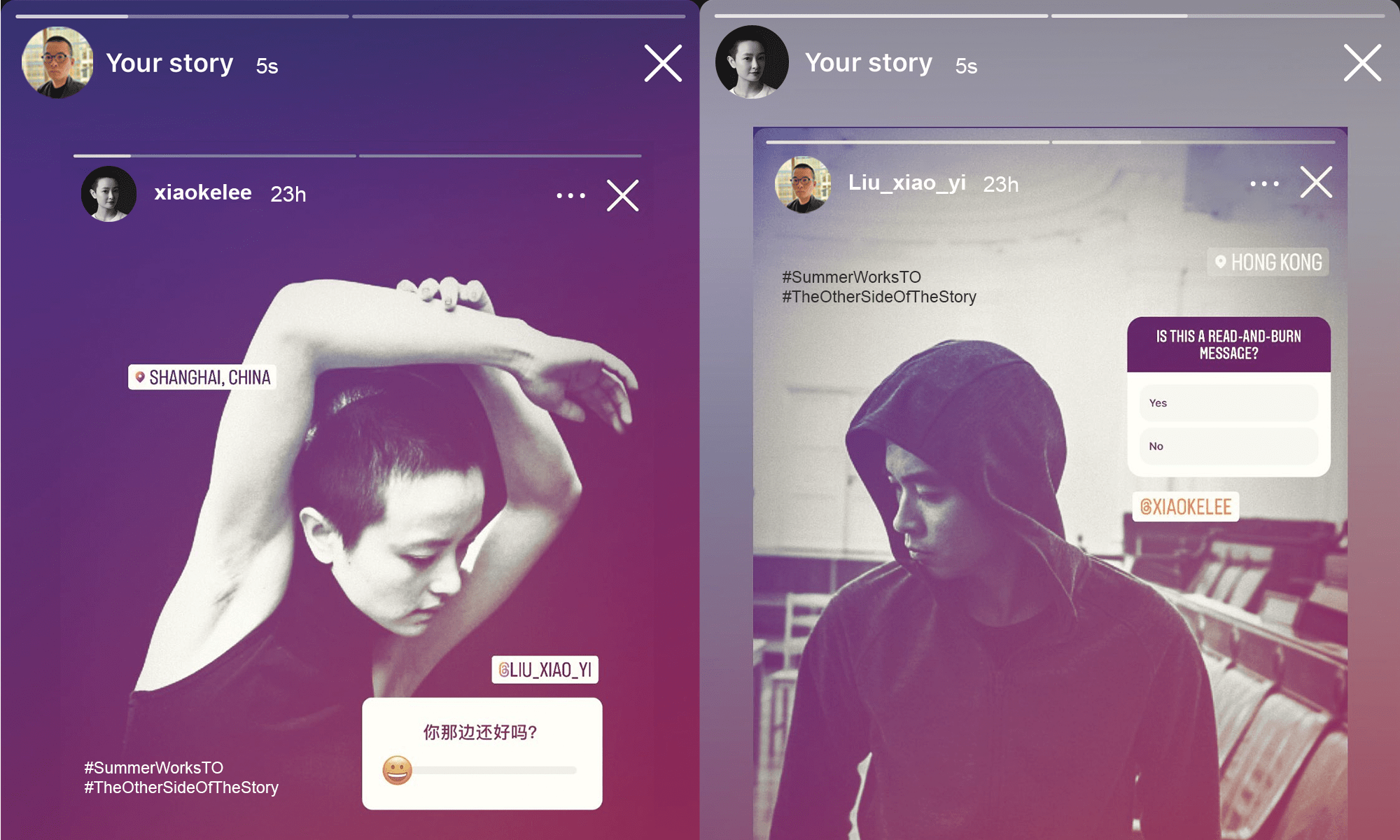 Image courtesy of Liu Xiaoyi
This project happened live via instagram stories on August 9. Click here for a highlight recap.
Since 2000, China's Great Firewall has divided the Internet into two worlds, "inside the wall" and "outside the wall". Websites or applications that are already part of everyday life for many people, such as Google, Facebook, Instagram, Twitter, WhatsApp, etc., are included in the blocking list. In addition, the wall also has its unique ways of regulating speech, such as text censorship based on sensitive words. "Inappropriate" comments containing sensitive words will be blocked, restricted or deleted; worse, there may be unpredictable consequences for the publishers. There is a digital Berlin Wall separating mainland China from the world.  Firewalls are certainly a barrier to communication, creating misperceptions and assumptions about each other on both sides.
Chinese netizens refer to breaking through online censorship as "fān qiáng" (climbing over the wall). It is estimated that about 5 percent of Internet users in mainland China still use sites such as Facebook and IG via VPN software. These "temporary jailbreakers" may spend 30 minutes a day establishing some kind of communication and connection with the world. And the majority of those inside the wall, have to create metaphorical expressions and creative communication as a form of self-protection in order to avoid regulation.
Here, unexpectedly but ironically, the 24-hour disappearing feature of Instagram's Story has the potential to become a kind of "read-it-and-burn-it" self-protection. Thus, these two creators, each on one side of the wall, will explore the other side of the story through the Stories feature. How will they approach a game of wall climbing, an exercise in creating metaphors, an experiment in self-censorship and self-mockery?
Xiao Ke is a contemporary theatre artist, commissioned by the Centre Pompidou for Jerome Bel's theater work "Xiao Ke" in 2020. Her work explores the limits of individual body expression in public contexts and has been invited to perform and to perform in residencies at major festivals, dance festivals and theatre institutions in Europe and Asia, touring in over 20 countries. In 2005, she founded independent artists collective with artist Zhang Xian, and won the ZKB Award, the highest prize at Zurich Theater Spektakel in 2006. Subsequently, with the artist group "Xiao Ke X Zi Han", her work won the Most Popular Award at Kunst Fest Weimar 2016. She also directs the Body Theatre Workshop, which has participated in various national festivals and collaborated with various art institutions.
Liu Xiaoyi is considered one of the most promising figures at the forefront of the experimental theatre scene in Asia. He was the recipient of "Young Artist Award" by the National Arts Council of Singapore in 2016.
Xiaoyi has been the artistic director of Emergency Stairs since 2017. A multi-faceted and multi- talented artist, he was involved in over 70 theatre productions as a curator, a director, a playwright, and an actor over the past two decades. Xiaoyi's work often polarizes, drawing both praise and debate. An example of his much-discussed works, Journey to Nowhere was a creative response to the then-newly unveiled government's cultural policy paper of Singapore. In 2018, Xiaoyi began to explore the relationship between art and science. He started a new project, No More Theatre, to develop collaboration between digital technology and arts, including AI, AR, VR and more.
A strong proponent of artistic exchanges across art forms, Xiaoyi has been actively promoting dialogues and creation across cultural and geographical lines over the past decade. Since 2017, he curates the annual Southernmost Project, a first-of-its-kind arts festival in Singapore. It seeks to bring prominent and established traditional and contemporary artists from the region together at Singapore for intercultural exchange. Since 2021, Xiaoyi has been invited to be the artist-in-residence at Zuni Icosahedron, a Hong Kong-based international experimental theatre company.
An educator at heart, Xiaoyi keeps a keen eye on the development of art talents in Singapore and the Asia Pacific region. He has started and helmed the Emergency Academy, which is designed as an incubation programme for promising young cultural leaders and has attracted a total of 40 artists from 16 cities in its two editions.
---
Presented in English and Mandarin
---
Part of the Public Works programming – bringing artists and audiences together in the public sphere to experience our city in new ways.
---