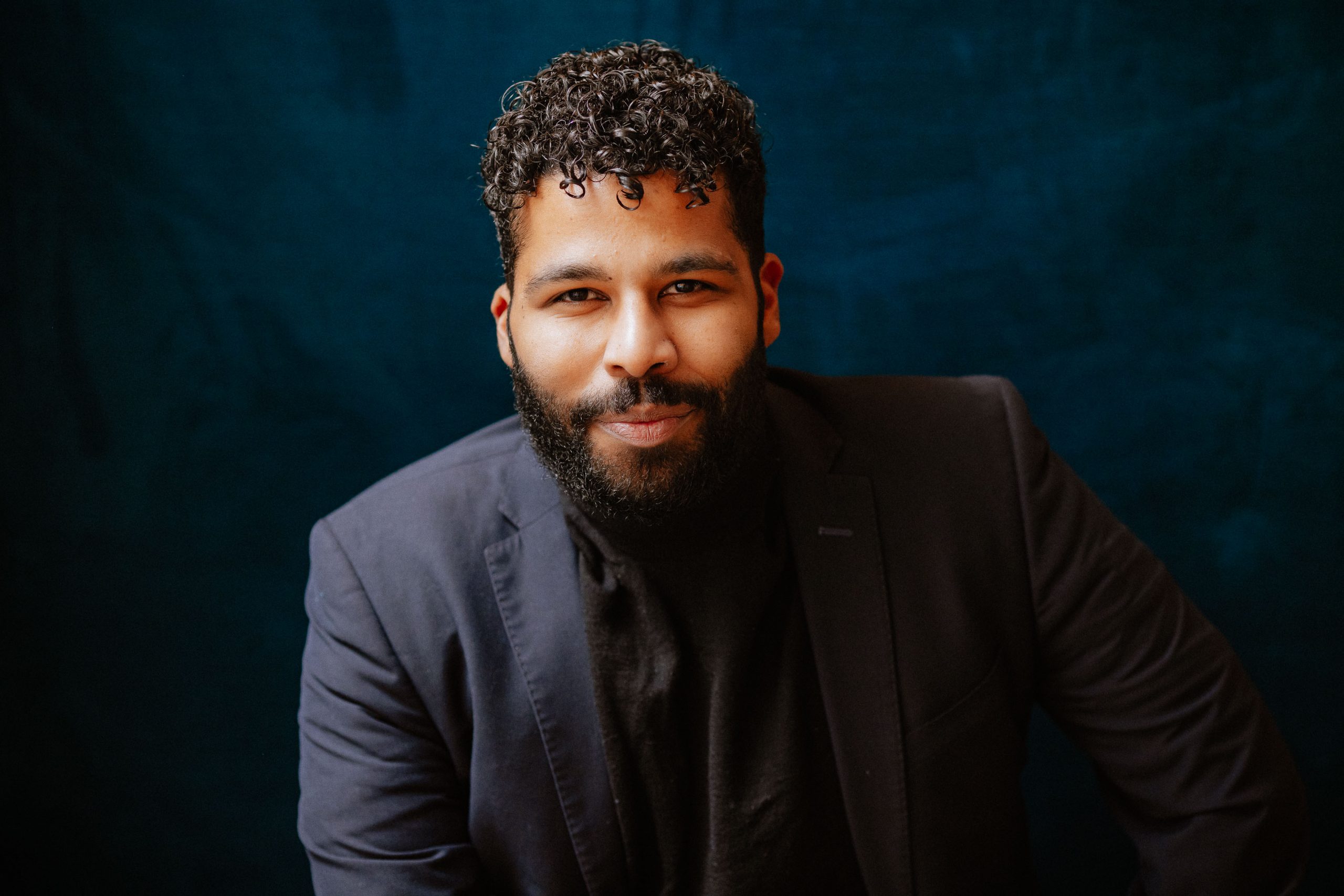 Photo credit: Sandro Pehar
Langston Hughes' ashes are buried under the floor of the New York Public Library beneath a mosaic engraved with lines from his poetry. Elijah, an aspiring poet who has taken to wandering the stacks alone after hours, has visited this engraving many times repeating the lines "my soul has grown deep like the rivers". One evening, after a difficult birthday, Langston Hughes comes to him as if in a dream. And so begins A New Black Poet.
A New Black Poet is a love letter from the living to the dead. It is a celebration of the poets Bill Gunn, Jean Toomer, Lorraine Hansberry, Toni Morrison, Ishmael Reed, Zora Neale Hurston, Ralph Ellison and Gill Scott Heron. Throughout The Pop-Up Experience, Jordan Laffrenier will be working in collaboration with Co-Conspirator and Multidisciplinary Composer and Musician Beau Dixon, Co-Director Aaron Jan, designer Echo Zhou and  choreographer Shakeil Rollock, to explore setting some of the poems of Langston Hughes to music, and the immersive potential of modelling this piece off of a series of academic lectures.
As part of the SummerWorks Lab Residencies this year, four artists/collectives from Outside the March's  TD Forward March program will take over pop-up storefront spaces. If you want a glimpse into the artistic process, stop by 1282 Bloor Street West between August 23 – 29, where you'll be able to engage in the creative process and peek through the windows to watch the Forward March artists at work throughout the month of August.
Writer/Creator — Jordan Laffrenier
Director — Aaron Jan
Composer — Beau Dixon
Designer — Echo Zhou
Choreographer/Movement Director/Performer — Shakeil Rollock
Performer — Dante Prince
TD Forward March is supported by TD Bank Group through the TD Ready Commitment.
---

The Pop-Up Experience is an indoor experience with a small capacity of distanced audience members who must remain masked at all times. There will be up to 20 people distanced in the space at any time.
Unfortunately there is no on-site audience washroom. The space is wheelchair accessible.
A limited number of tickets are reserved for audience members who use American Sign Language for the Sunday August 29, 3:00PM performance. If you require ASL interpretation please email boxoffice@summerworks.ca to reserve one of these tickets.
If you have further access questions you can get in touch with our access team at outreach@summerworks.ca.
---
Part of the SummerWorks Lab programming – a place for exploration, experimentation, and process. In the Lab, you can experience new works in development from artists exploring new possibilities in performance.
---