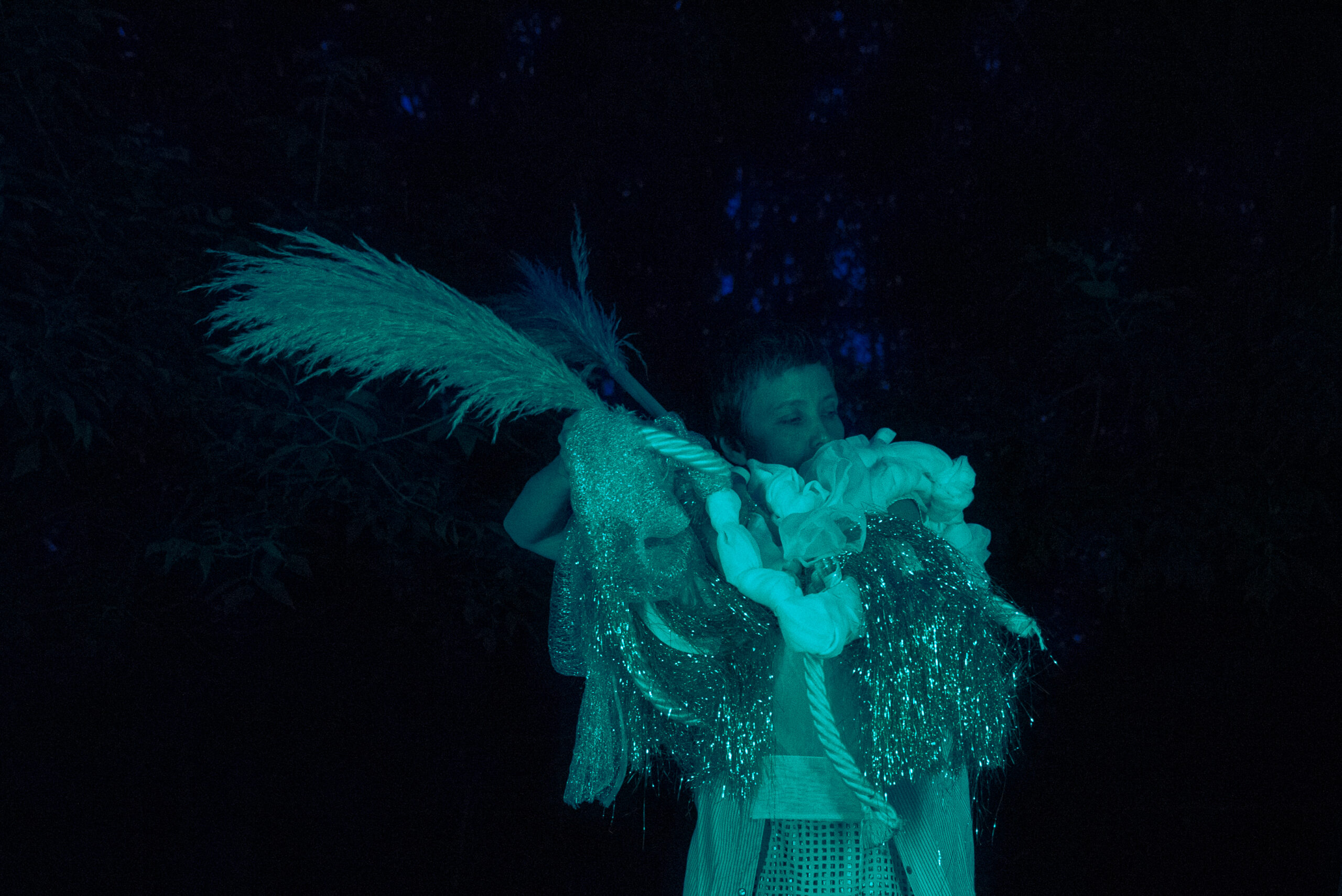 Photo by Francesca Chudnoff
Investigating agency, rhythm, and vibration in both the body and the material world; a reflective, meditative experience that draws you in and builds into an energetic swell of vibrancy and aliveness. 
no place assembles artists working in dance, experimental music and design to create a vibrant container for feeling. You are invited to witness, tune in, and sense the environment as the performers move and build landscapes together. 
Deepening the improvisational scores and practices developed with Acorn's group works multiform(s) and Leisure Palace, no place approaches the body as an empathetic and malleable system to explore expansive modes of being and creating. 
In collaboration with environmental installation artist, Lauren Wilson, no place invites a dialogue with the sensorial field in relationship to natural and manufactured objects. Connecting animate to inanimate, the performers co-create and build vibrant sculptures and landscapes as choreography. no place proposes ways of inhabiting and attuning to the aliveness of the world around us in an effort to close the gap between human and nonhuman worlds. 
Secret location will be shared at least 24 hours in advance.
"…a choreographer interested in the natural progression of a physical instinct and is determined not to get in the way of where that instinct might go." 
– The Globe and Mail
" …magnificent, elegance and corporeal courage.." 
 – The Dance Current
"a disciplined study of reaction and response –it's meditative and vivid."
-The Globe and Mail
Amanda Acorn: Choreographer, Director; Robert Abubo, Lori Duncan, Benjamin Landsberg, Bee Pallomina, Matt Smith, Ann Trépanier: Performers and Collaborators; Prince Nifty: Live Sound Design; Lauren Wilson: Scenography; Sarah Doucet: Costume design; Justine Chambers, Andrea Spaziani: Outside eyes, Choreographic Support; Bran Ramsey: Producer; Jasper Jacobs: Technical support
---
Creation supported by Canada Council for the Arts, Toronto Arts Council and Festival TransAmériques. Residency support from Dancemakers Centre for Creation, Stoneboat Artist Retreat, Summerworks Open Studios.
---
Part of the SummerWorks Presentations programming – a vital collection of theatre, dance, music, and live artworks from across the country offering you a snapshot of contemporary performance.
---