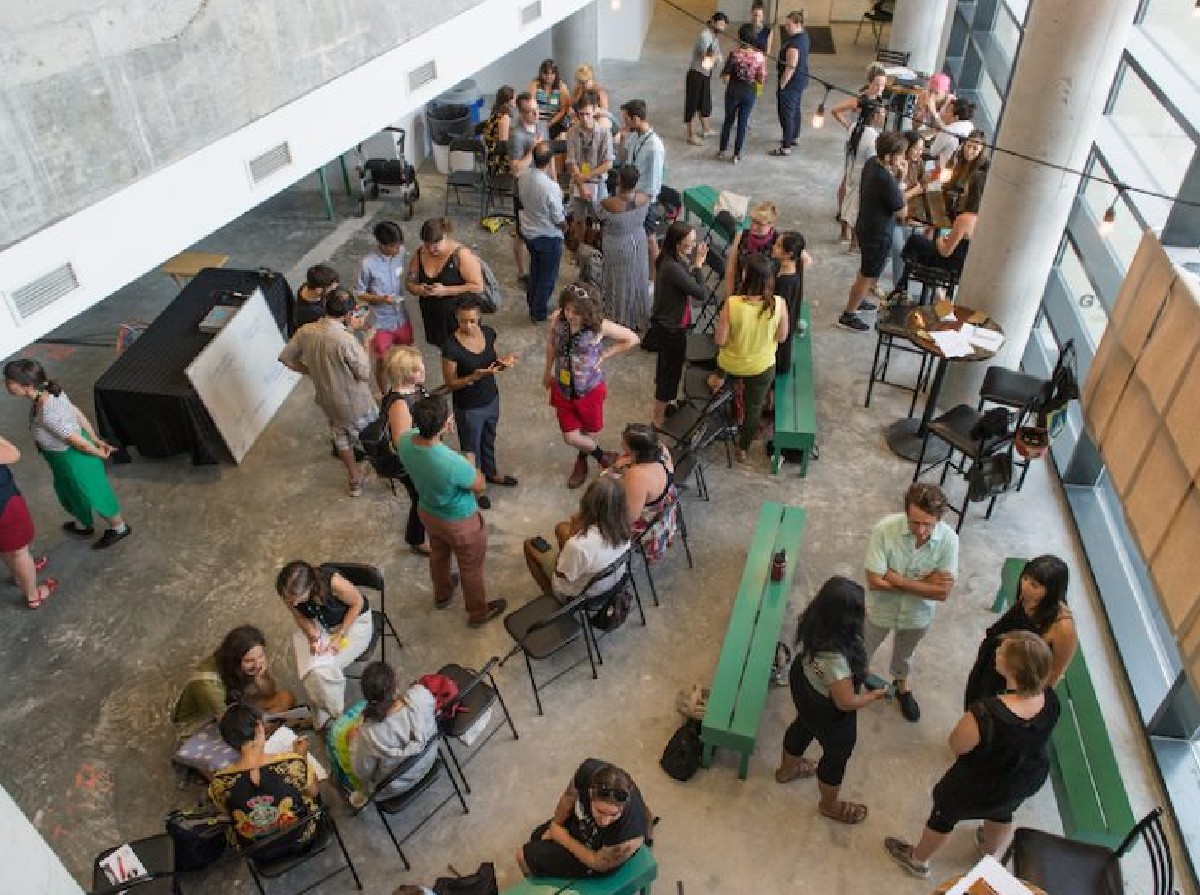 photo by Henry Chan
The SummerWorks Exchange Open Hours is a generative studio space for encountering new projects and resources in performance making. Drop in on creators and builders, with an opportunity to learn and exchange ideas as they shape their ongoing projects.
culturecapital
A collectible trading card game about the Canadian performing arts economy. Come check out a sneak peek workshop demonstration of the game that arts funding juries are calling "divisive and niche", and that almost everyone else is calling "absolutely necessary to play". At this year's Exchange, Milton Lim and Patrick Blenkarn begin building the Toronto edition of culturecapital, a participatory live art trading card game where players assume roles as stewards of the local arts community, summon companies, roll for grants, produce projects, and play strategies.
Beyond Silent Mode
How to use smartphones in your performance practice? What is augmented reality, and what can I do with it? How can I cue sound, video, and notifications on the phones of my audience, cast, and crew? How can I prototype a creative+technical idea cheaply and effectively? How do I collaborate with software developers? If you're a performance maker or creative producer with questions like these, creative technologists Jacob Niedzwiecki is here for you, with hands-on demos and one-on-one / small group consultations.
ArtistProducerResource.com Wiki-edit-a-Thon
ArtistProducerResource.com is an open-source encyclopedia of knowledge, resources, tools, and practices for producing independent performance work in Canada (starting with a focus on Toronto). Hosted by Generator, this site is made by artists and for artists, to broaden the scope of instruction and knowledge- sharing in the community, and provide a platform for new ideas and practices to be shared. Artists can add new content through a wiki-edit-a-thon during the SummerWorks Exchange Open Hours. Have a useful best practice or resource you want to share? Come add it to ArtistProducerResource.com and see it live on the site!
---
Part of the SummerWorks Exchange programming – a series of events to facilitate artist and community growth, to strengthen the ecology of live performance in Canada, and expand our dialogue and collaboration with the international arts community.
---