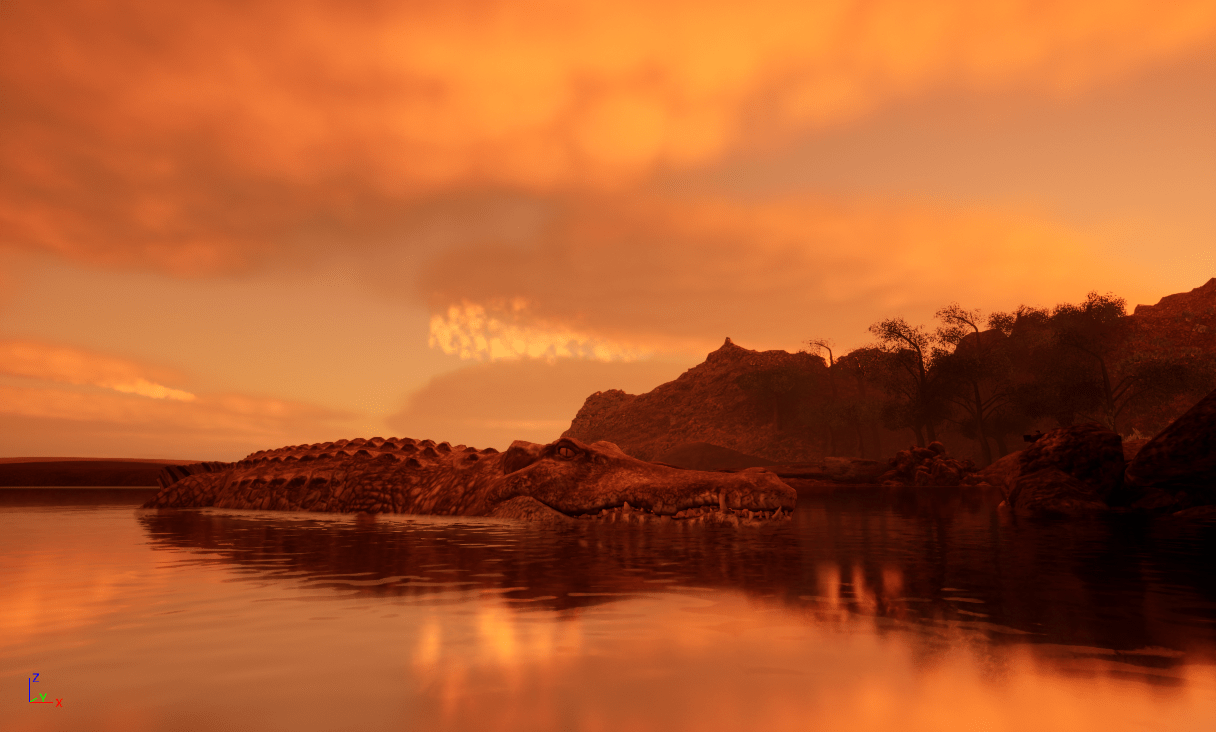 Photo courtesy of Angeline Meitzler
In pre-colonial Philippines, the crocodile was a symbol for benevolent and malevolent power. They were believed to be living ancestors, grandfather spirits venerated as community guardians and securers of good harvests. Alongside this role, it was believed that the crocodile had the power to bring death and destruction, the embodiment of a nature-god (diwata) capable of triggering natural forces and attacking individuals who committed social injustices.
This web application artwork invokes the Filipino nature-god Lahua, a large crocodile that could inhabit the earth and caused the frequent earthquakes that occurred in the Philippines during this period. Accordingly, earthquakes became mythologized as a revolutionary symbol, a sudden release of energy that could disrupt the tide, bringing an end to oppressions and an opportunity to mobilize. 
Maintaining a live record of the exchange rate between the Filipino peso and the US dollar, which flickers above the water, Meitzler's web program sees Lahua materialize at times when the rate is at its lowest. The spirit of the ancestor, the grandfather guardian summoning economic justice and challenging the intricacies of colonial depth that continue to impact the Philippines.
Acting as a Toronto community member on August 11th, Lahua will call attention to local Filipino businesses via a Twitter bot announcing prosperous omens and reporting exchange rates. Messages in Tagalog and English can be followed at @SummerWorksTO.
Angeline Meitzler (b. 1992) is a Filipino American artist, writer and software worker based in Brooklyn. Angeline's work has been included in new media festivals, and galleries including 24-HOUR DRONE, Basilica Hudson, Hudson; The Terminal, Anonymous Gallery, NYC (2021); Beyond The Hashtag: Failures and Becomings, HTMlles Festival, Montreal (2018); Feminist Media Studio, Montreal (2018). Through her previous role as a technologist at Pioneer Works she has co-organized conferences and curated workshop series such as Software for Artist Day, Fruits of the Pluralist and Heart of the Machine. She has given lectures and presentations at academic institutions and cultural organizations such as The New School, TU München and Asia Society. Her work as a collaborator and software engineer has been at Carnegie Mellon University, the New Museum, Rhizome, de Young Museum, Istanbul Biennial 2019, Kunsthalle Basel, Rubin Museum, Sadie Coles HQ, the 2019 Whitney Biennial. She has been a Masters Candidate at Georgia Institute of Technology and received her MFA from School of the Arts Institute of Chicago. https://angeline-meitzler.com/#/ 
---
Presented in English and Tagalog.
---
Part of the Public Works programming – bringing artists and audiences together in the public sphere to experience our city in new ways.
---