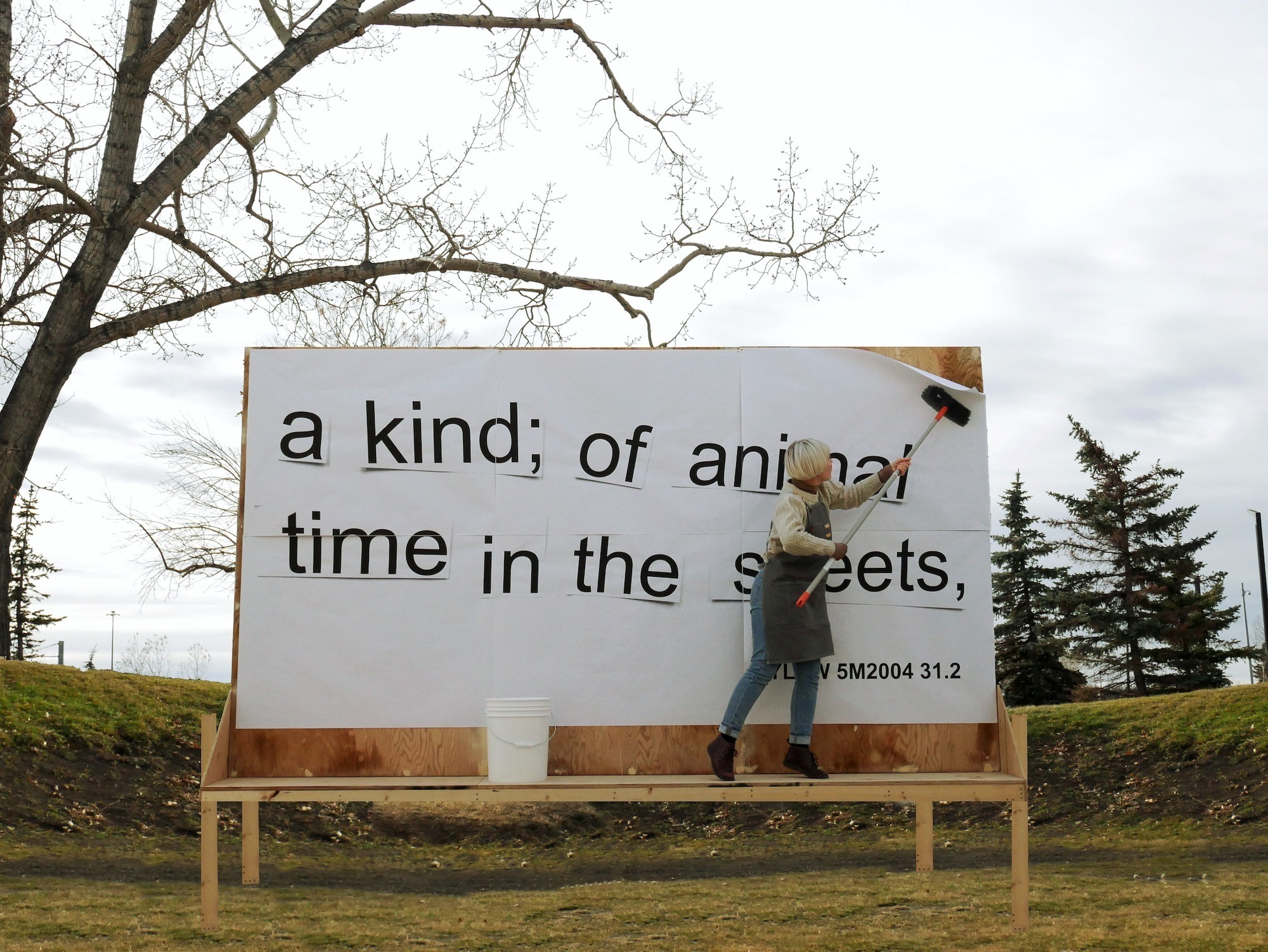 Photo by Action Hero and Mia + Eric
Future Perfect: New By-laws for Civic Spaces is a hopeful, positive act of re-configuration. By-laws that regulate behaviours in civic spaces – in this case, Toronto's Parks by-laws – are cut up word-by-word and meticulously rearranged into a new set of rules for a transitioning world.
From this new poetic script, selected phrases are enlarged and re-inserted back into the architecture of the cityscape on billboards, acting as playful instructions, permissions or manifestos; a collection of imagined alternative behaviours unfolding throughout the city. As the signs appear across the city from the words of Toronto's existing by-laws, an accidental poetry emerges that invites the reader to imagine new ways to move through civic space; re-constructing and re-engineering possible futures.
You are invited to help with re-constructing Toronto's new Future Perfect by-laws! Visit futureperfectbylaws.com to submit your own new rule, using cut-up words from the original text.
OFFICE HOURS:
AUGUST 4-7, 12:00PM – 7:00PM/
AUGUST 10-13, 12:00PM – 7:00PM
AUGUST 14, 12PM – 4:00PM
You can visit The Bentway Studio (55 Fort York Blvd.) to see the artists at work during their Office Hours. Join in the rewriting process! These new by-laws are appearing across the city — locations mapped below. 
Co-presented with The Bentway, in association with The Theatre Centre, as part of ArtworxTO: Toronto's Year of Public Art 2021-2022.
Mia + Eric and Action Hero
---
Supported by British Council, Farnham Maltings, the High Commission of Canada in the UK via the New Conversations Fund, and Arts Council England.
---
Part of the Public Works programming – bringing artists and audiences together in the public sphere to experience our city in new ways.
---